Donate to Us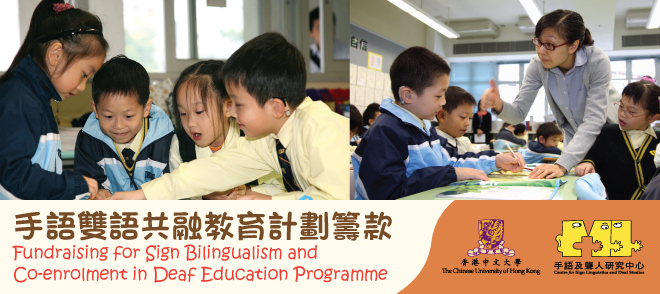 Fundraising for Sign Bilingualism and Co-enrolment in Deaf Education Programme
Sign Bilingualism and Co-enrolment in Deaf Education is an innovative programme that benefits both deaf and hearing students. It covers education programmes from infants to secondary students, deaf training and teacher training in linguistics and deaf education, parent counseling, speech and language training and assessment, educational resources development, and education research. This new programme aims to expand the scope of the oralist-only policy in deaf education by introducing a sign bilingualism and co-enrolment option in educating both deaf and hearing students in Hong Kong.
As the funding for infants to primary school programmes will expire in July 2014, we are looking for new funding to continue to support our various primary and pre-school progrmames in HK, to continue our mission that true inclusive education should be one without barriers.
For donation, please send a crossed cheque payable to "The Chinese University of Hong Kong" to "Centre for Sign Linguistics and Deaf Studies, Rm. 104, Academic Building 2, The Chinese University of Hong Kong", and please mark "Donation to Deaf Education Fund" on the back. Donation more than HK$100 can receive a receipt for tax exemption. If needed, please also include your full name and mailing address on the back of the cheque.
---
手語雙語共融教育計劃籌款
手語雙語共融教育是一個聾、健皆得益的融合教育方案。在計劃中,聾、健老師互相配合,聾、健學生以手語、口語兩個不同語言渠道去學習。對聾生來說,他們獲得了一個沒有障礙的語言,可以跟其他學生平等地學習;健聽學生也能「多感官」地享受視覺學習。手語和口語同時發展對兒童的語言、認知和心理社交發展都有好處。
要實踐這種教育模式,除逐步發展由嬰兒到中學的教育項目,聾人語文及語言學訓練、教師及專業人員培訓、家長輔導、言語訓練、教學資源發展、持續語言發展評估及教學研究等,缺一不可。要突破以往摒除手語的聾人教育政策,在香港落實雙語共融,讓聾、健學生能不分彼此的一同得益,一同成長 ─ 在過去七年多,我們開始了;往後的日子,我們仍然不可以停止。
嬰兒到小學項目的資助將於二零一四年七月屆滿。我們需要籌集經費繼續我們的工作,繼續打造一個聾健共融的社會環境。我們實在需要您的支持,讓這些兒童可以在沒語言障礙環境下學習的夢想不要幻滅。
捐款請以劃線支票,抬頭「香港中文大學」,並於背頁注明「聾人教育基金捐款」,寄往「香港中文大學教研樓二座一零四室手語及聾人研究中心」。港幣一百元以上的捐款可獲收據作免稅用途,如有需要,請同時於支票背面留下你的姓名及回郵地址。